Christmas Gallery
Over 40 shots, showing off Mirkwood, Rohan, Isengard and our first shots of Erebor!

Check them out here and discuss them in our forums.


---
Posted by Matt 11:34 PM 14/12/2008
---
Gallery Updated
We've been showing you tonnes of sneak peeks over the last few months but haven't had a gallery update for a long time. Well we've added 20 new screens, and there should be more in the near future.

Check them out here and discuss them in our forums.


---
Posted by Matt 10:29 PM 08/02/2008
---
Contest Over! Staff Pick Announced



The staff pick has been announced as JEV3's first entry. Congratulations! The staff felt that your banner best represented a specific use within the realm of Dwarven design.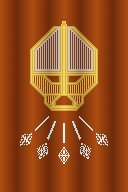 You can see it in action in this week's Sneak Peek


---
Posted by Nertea 11:26 PM 09/12/2007
---
Contest Over!


The Erebor Heraldry Design contest is now over! The staff would like to thank all those who entered, and the 343 of you who voted!

As for the winners:

1st Place: Hatacatan's second entry (117 Votes)
2nd Place: Eldarion's entry (60 Votes)
3rd Place: Bebbe's entry (34 Votes)
4th Place: Tobifou's first entry (31 Votes)

Congratulations, you four will all get your designs into the mod! We also said there will be a staff pick, and we are currently discussing that, and will make an announcement soon.


---
Posted by Matt 3:52 PM 03/12/2007
---
Erebor Heraldry Contest Voting!
Use the poll on the left to vote for your favorite Erebor banners. You can click on the contestant's name to bring up an image of their design. The top 4 banners plus one staff pick will be used in the mod. Remember, design is what counts here - don't just take the execution of the design into account when deciding what to vote for.


Voting ends on the 1st of December.


For a more in-depth look at submissions, look HERE.




























---
Posted by Nertea 6:53 AM 25/11/2007
---
Erebor Heraldry Contest!


As with a number of decentralized military and economic structures, the Dwarven realm of Erebor is divided into a large number of families or clans that cooperate and unite in times of war. Different families would specialize in different areas, such as stonework, smithing or even weaving. To incorporate this into the Rhovanion Alliance Mod, Erebor Castles will have a unique set of heraldry symbolizing the families that would have been involved in the construction of this unified military outpost.

This is where the public (eg YOU) comes in. The objective of this contest is to define the symbology of these important Dwarven families. Participants can submit designs which represent a family. This could be for a banner, a watermark, a tapestry, a sculpture, a carved mural. It could also be a simple design to be worked into all items related to the family. Essentially, we are looking for a coat of arms.

I would like to stress that artistic skill here is not important. The winning designs will probably be manipulated significantly to fit in with the rest of Erebor, they will be modified to fit on stonework, woodwork and banners. Therefore, spend some time on the design itself instead of worrying about shininess (unless you're good at that kind of thing).

For further details, visit the contest thread HERE.

To submit a design or view other submissions, look HERE.


---
Posted by Nertea 1:11 AM 08/07/2007
---
New Staff Member
We'd like to welcome out newest team member Hebblewhite, of AI coding fame. He will, by strange coincidence, be helping us with coding AI for our new factions and revising the old ones. Welcome to the team, comrade!
---
Posted by Nertea 1:11 AM 08/07/2007
---
Gallery Update
Eighteen new screenshots featuring a mix of Mordor, Gondor and Mirkwood have been added to the gallery. Also, If you haven't been to the site in a while, make sure to check out the Sneak Peek Archive for renders and animations!


---
Posted by Nertea 3:56 PM 06/07/2007
---
New Sneak Peek, New Team Members
Firstly, we would like to welcome Lauri and and Andros de Nürne to the team, respectively as animator and skinner/modeller.

Secondly, we have a new Sneak Peek for the week - Gloin, a hero of Erebor, and a Corsair of Umbar.




---
Posted by Nertea 4:01 PM 12/05/2007
---
Site Update, Gallery Update, Sneak Peek
Firstly, we have updated the site to make it more user-friendly and faster loading. Enjoy!

Secondly, we have updated the Gallery with 7 new shots, showing off the new Gondor Trebuchet among other things.

We have also started a new Sneak Peek feature, which will be updated every Sunday. It can be accessed through the forums or the Media page. Last week we featured a pair of animations, this week a render of the new Dunedain Camp.





---
Posted by Nertea 3:32 PM 6/05/2007
---
Gallery Updated
We have updated the Gallery with 24 new shots, showing off the three completed factions plus some new maps. Check them out.

On a side note, The 3rd Age has a brand new website including many new features to help modders of the BFME series.
---
Posted by M@tt 10:22 AM 31/03/2007
---
Main Faction Updates...
and much much more!



This update has been a long time in the making, involving an entirely new site. That much is evident, though I recommend exploring the various faction and minifaction pages to see what else is new. Among other things, the long-awaited Mordor and Gondor main-faction updates are now here. Significant updates to Mirkwood's main faction pages and minifactions are also around.

If you look around you will also find updates to Mirkwood and Mordor's minifactions...
---
Posted by Nertea 4:40 PM 03/01/2006
---
Voice Contest: Mirkwood



We are in need of voices for the following units:
Should sound Elvish, almost British:
Thirrad
Macar
Roquentar
Aithran
Rivendell Captain
Elladan
Elrohir
Glorfindel
Marchwarden
Silver Tree Guardians
Radagast
Should sound Brittishy/Scottishy/Irishy/Dutchy/Scandinavian/German
Grimbeorn
Beornings
Woodmen Hunters
Contestants should email samples of their work to Celeglin.

Voice scripts can be found here
---
Posted by Drewry 10:30 AM 16/09/2006
---